What Leads to Relationship Violence and Abuse?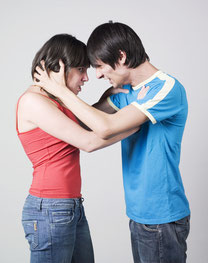 People who demonstrate violent or abusive behaviours may have come from a background of abuse, violence or loss.  There may have been violence or abuse in the home when they were growing up.  Even if there was no violence, they may have been exposed to attitudes or beliefs which laid a foundation for future abusive or violent behaviour. People who tend to be abusive in their relationships often verbalize beliefs and myths about relationships that support them being abusive such as, "all couples fight and as long as no one gets seriously hurt it's not a problem.
Another possible factor in promoting unhealthy relationship patterns, can occur when children do not get sufficient nurturing and support from their caregivers.  When children don't get what they need in order to become healthy adults, this can result in low self-esteem, insecurities and feeling easily threatened about losing their relationships.  They can be overly focused on their needs being met and have difficulty accepting their partner's needs and anything that distracts their partner from focusing on them.  I've worked with people who feel threatened by their spouse having a career, having time with their family and having separate interests.
Identifying Violence and Abuse in Relationships
When someone tends to operate in an abusive way in relationships, their relationships are largely based upon power and control.  They exercise control in their relationships through physical and psychological methods.  They often dominate the decisions made in key areas such as finances, parenting, socializing, family moves and rules of the relationship/family.  People, who seek to be in control in their relationships and homes, generally have difficulty with their emotions.  They tend to either swallow their emotions, rely on substances to cope with stress in their life, or have limited responses to emotional situations.  One example of limited emotional responses, is the person responding to a variety of situations with anger.  The events might involve loss, uncertainty, change or other stressful events, but the emotion that is most evident is anger.
Change and Moving Towards Healthy Relationships
As in any change in human behaviour, it is largely dependent on how much the person wants to change and or recognizes the need to change.  For many I've dealt with in my career, the motivation to change often comes from an external source.  In other words rather than the person one day waking up and saying I want to change, it comes from an outside source such as child welfare, legal services or their spouse threatening to leave the relationship unless there is a change in their behaviour.  Even with an outside motivator, the person often struggles with accepting that what they have been doing is inappropriate and they need to learn new behaviours.  None of us want to see ourselves or what we do in a negative way.  People who are being abusive or violent often try and justify or explain what they do.  It can come as a real blow to their self-identity, to face the fact that their way of thinking and behaving has been inappropriate and they have to make changes.  Moving from external motivation to internal motivation is an important step in a person making real change in their life.  Internal motivation can be a desire for improved relationships, deeper intimacy and a person wanting to feel better about themselves.  When people are internally motivated they tend to demonstrate a much greater willingness to acknowledge their past mistakes, an openness to trying new behaviours and participating in support/counselling services.  
---
John Hayashi M. Ed., RCC  
Along with a general counselling practice, I began working in the area of domestic violence treatment in 1990 and also worked for over 11 years as the therapist in a police department.  While working in the police department, I dealt with many examples of domestic violence in the community that resulted in varying levels of assaults and professional follow-up.  I continue to work in the area of domestic violence and abuse.